A warm welcome to my practice
I am happy to welcome you on my homepage and in my practice. On this page, I would like to give you a short insight into my work and to inform you about the different treatment methods, techniques, and possibilities.
My emphasis lies on the aesthetic and sports medicine. I am a general practitioner, a trauma surgeon, and an emergency physician. In addition, I have acquired diplomas in sports medicine, alpine and high altitude medicine as well as certificates in aesthetic injection treatments.
I am also pleased to be able to help you with my long-standing experience in the medical field and to contribute to your well-being. Personal communication with my patients is very important to me. Thus, I will gladly take plenty of time in order to explain possible treatments. Please contact me by phone or email to arrange an appointment.
Yours sincerely,
Alexandra Reimann, MD
---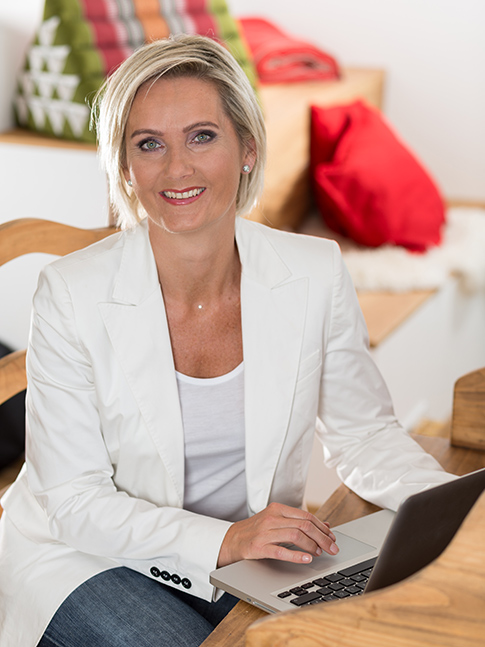 Alexandra Reimann, MD
I was born in Steyr, Austria, on January 23rd, 1971 as the daughter of an extreme mountaineer and an office employee. Following my father's passion, I regularly went mountain climbing and did a lot of other sports as soon as I started school. This way, I often ended up in an emergency department of a hospital. Luckily, I never got anything more serious than the occasional cast. This was, among others, one of the reasons for my professional career as a trauma surgeon. I have always liked the hospital atmosphere very much and found it exciting to watch the doctors do their work.
However, for a short period of time I wanted to pursue a career in gastronomy since I spent all my spare time as scullery or chambermaid, receptionist and even as a host in a mountain cottage, working for different hotels and companies in and outside Austria. Shortly before beginning my studies at the universities, however, I decided against the school of tourism and in favour of the Medical University of Vienna, knowing that I still had the holidays for my "2nd career".
In the workshop of a friend, I was able to live up to my creative vein. Together, we would decorate hotels and weddings, paint ceramics and make porcelain dolls. For days on end, we would cast and paint the dolls' heads, hands, and feet. So, as it is, I already began to design "beautiful faces" many years ago – just similar to aesthetic medicine.
After graduating from the Medical University, I spent my internship at the Regional Hospital (LKH) in Steyr. During this time, I also acquired several additional diploma, e.g., in manual medicine, sports medicine, alpine medicine and as emergency physician. The internship increased my interest in trauma surgery; hence, a hospital in the middle of a skiing resort seemed optimal for a profound education as trauma surgeon. So I ended up completing my residency there.
Additionally, I had a practice of sports medicine in Ramsau for 2.5 years. There, I mostly attended to endurance-trained athletes and pupils from the SKI Commercial School in Schladming.
Since the summer of 2002, I have been member of the Team Physicians Association of the Alpine Section of the Austrian Skiing Federation. Over the course of the years, this very fascinating and varied activity has led me to almost all skiing race and training resorts. During these journeys, I have come to appreciate medical standards in Austria. In order to escape the sometimes very frosty working conditions (down to -30° C), I shortly switched to the cyclists and accompanied them as team physician during the Crocodile Trophy through the Australian outback. There, working conditions now included temperatures of up to +45° C, the danger of snake bites and a large number of crashed cyclists.
One of my many mottos is: taking part is everything that counts – and that in the most activities possible. So I have tried out climbing, mountain climbing, mountain biking, skiing, snowboarding, cross-country skiing, and ski touring. Furthermore, I play golf, like to jog and love to constantly try out new things.
Right now, my sweet three-year old daughter is keeping me rather busy.
---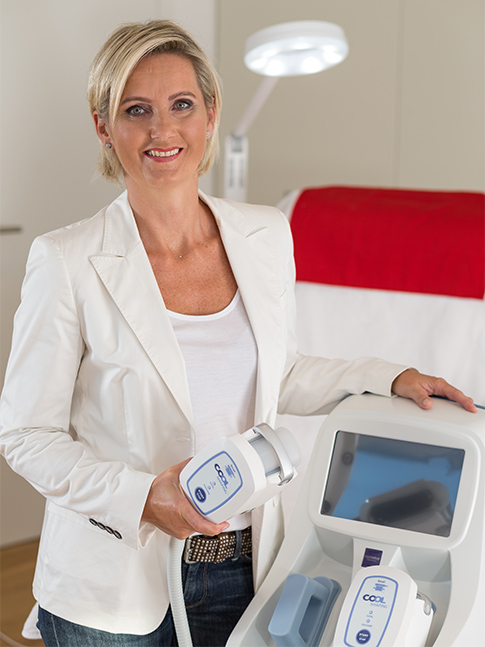 Facilities of the practice
Well-being, satisfaction and anonymity of my patients are very important to me. Thus, I have laid great emphasis on the choice of my practice location, which I intentionally looked for and found in the newly built Falkensteiner Hotel in Schladming. The hotel impresses with its mixture of modern architecture and rustic life style. My practice is located in the Acquapura Spa area. The waiting room offers fruits, tea, and mountain spring water with different natural aromas.
Regarding the choice of laser technology, it was very important to me to find a competent partner in MSC Medical since they can look upon many years of experience in selling lasers. The VIKINI Multiplus Diode Laser for hair removal is clearly among the most exclusive diode laser system currently available. This is true also for the COSJET TR YAG pigment laser for tattoo removal.
Since the beginning of the year 2015 i am also using the new COOLSHAPING system for Cryolipolysis in my practice.
---